My Story: Marilyn Joyce Van Schaack and the President
Had I not have been a member of the California Republican Women, Southern Division, Los Angeles and Orange County Republican Women Federated, Tarzana, Laurel Oaks and Laguna Niguel RWF I would never have had the opportunity to work with the Presidents Reagan, H.W. Bush, Clinton, and G. Bush, Vice President Quayle and so many wonderful Republican Leaders. It was at the LACFRW Fashion Show in 1975 I hosted the former Governor's office staff members' luncheon.
After being invited to assist in the candidate Reagan's business office, it was my pleasure to arrive in Westwood and meet once again Helene von Damn, Reagan's Administrative aide, Dottie Dellinger, Barbara, Kitty, Claire and Carol Gillis, all were staff for Deaver Hannaford Public Relations Firm. Pete Hannaford and Mike Deaver Reagans Presidential advisory team. It was a large office room, Pete's office, Nancy Reynolds' office, Reagan's Office and one small extra room.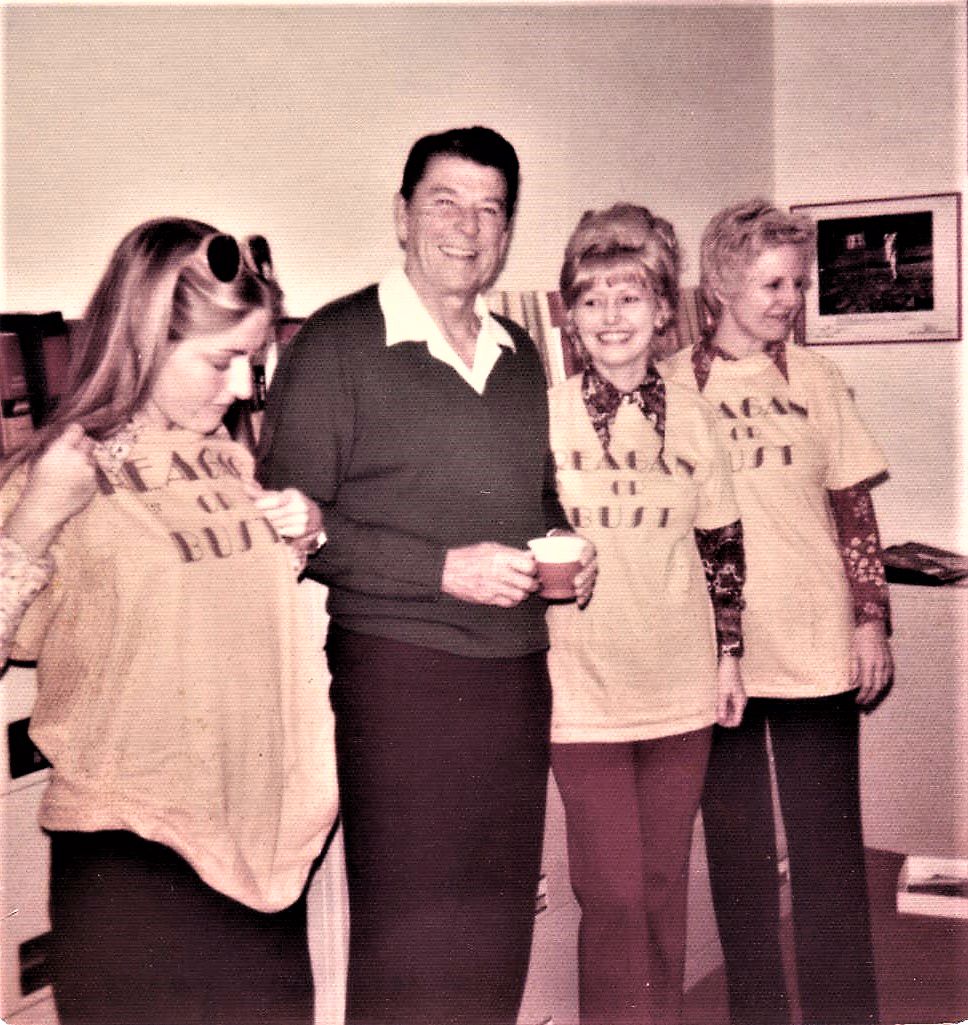 I would be working with volunteer Dottie Dellinger reading and answering the huge amount of mail for the Presidential candidate. At first the mail was checked by the secret service for any threats, then because the mail was so heavy it was left up to Dottie to open the hundreds of requests for the candidate's views on every issue and life. Luckily, I was a speed reader. I submerged myself in stacks and stacks of letters. Reading quickly, and then underlying the request and then sort the request into similar question piles. Luckily, there were many form letters to answer questions. We had many letters from young folks and older folks that were suffering under 21% interest rates asking for help. There were many children's letters, there were strange letters and then some to go directly to the U.S. Secret Service. We also mailed many of Reagan's photographed pictures.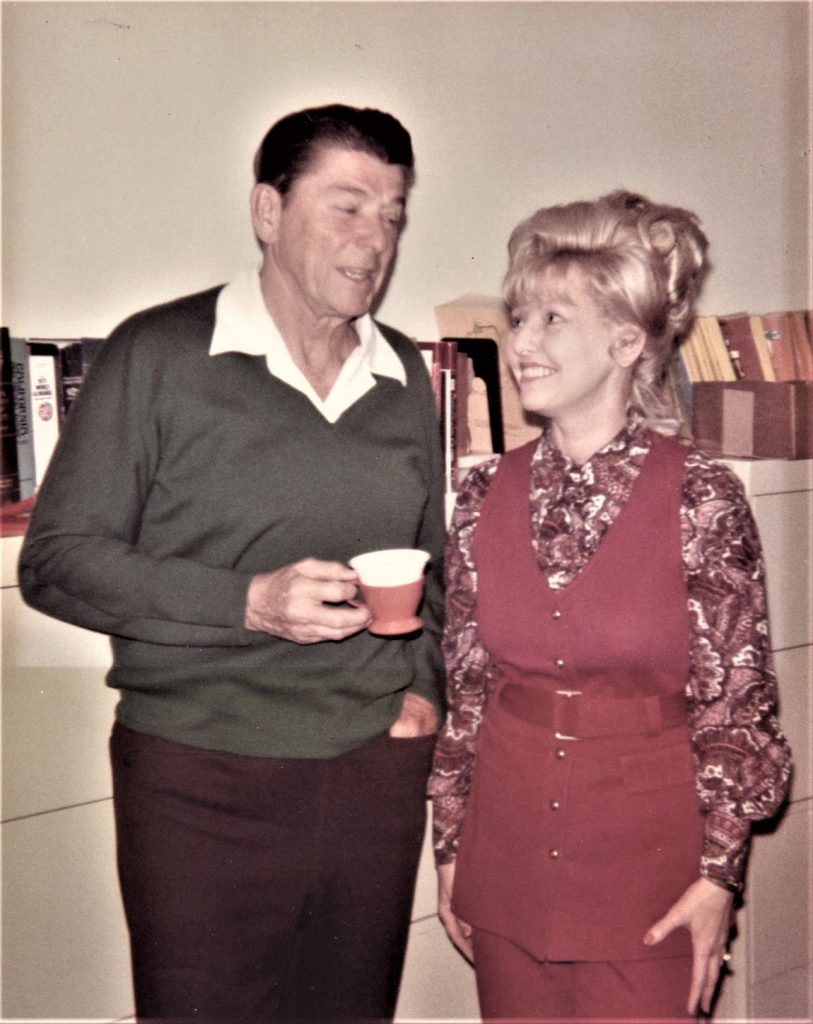 I worked in the candidate Reagan's personal office where I could spread out letters on his enormous desk. Then when we knew he was coming to the office, quickly sweep the desk clean. I finally had my own office. As a volunteer I could take off at lunch time and meet my sister in West L.A. for a tennis match. That meant that I would take home boxes of mail to keep up with. Later Leslie came to volunteer and type form letters. The staff was great; a little jealousy now and then with the younger ones, but that is politics.
Reagan traveled a good deal of the time with staffer Mike Deaver, endearing himself to many candidates throughout the country as he spoke to their audiences. Reagan was well-known around the country as he had been speaking in behalf of General Electric and starring in their weekly television shows. He was a stanch believer in our free enterprise system and a strong patriot, as well as a beloved actor. When visiting the office it was generally a time of relaxation as he always had a joke or story to share. He loved using his different ethnic language. I always forgot the beginning of the joke as they were long, but entertaining. His humor was infectious as we all loved being with him, if only for a short time. As a quick reader Pete would ask me to scour newspapers for information for his writings, the action points. He kept very busy and Barbara, his secretary had to always stay ahead. Some of the gals would occasionally travel, having little sleep but loved their chances of traveling on the campaign.
As things became more active our office group would get together for dinner at different members' homes. My husband and I held the first meeting in Tarzana for the group. It was the night of New Hampshire election. My son had rigged up the phone so we could all hear him at the same time. What a thrill we had hearing Reagan at his first election. Luckily, he continued calling us from each state letting us know the results, most of the time talking to each one of us.
I was active in the Los Angeles Republican Women Federated and in the state party and was asked to serve as Chairman of the California Suite at the National Republican Convention in Kansas City. This meant contacting businesses throughout California that would donate foods and gifts sent to the hotel. California business folks loved Ronald Reagan and were very generous. One of the best contact was the Herman Goelitz Jelly Bean Factory. We had small packages of Jelly Bellies for all our Reagan supporters, and proudly handed them carefully for his supporters on the floor of the convention.
Ronald Reagan didn't win, however the Republican electorate was with him. Because of his age, we thought the Reagan era was over, how wrong we were. Helene asked if I would be interested in working at O'Connor Creative Services just before the convention, and I moved to their offices in North Hollywood after the National Convention where Reagan made his 5 minute radio commentaries.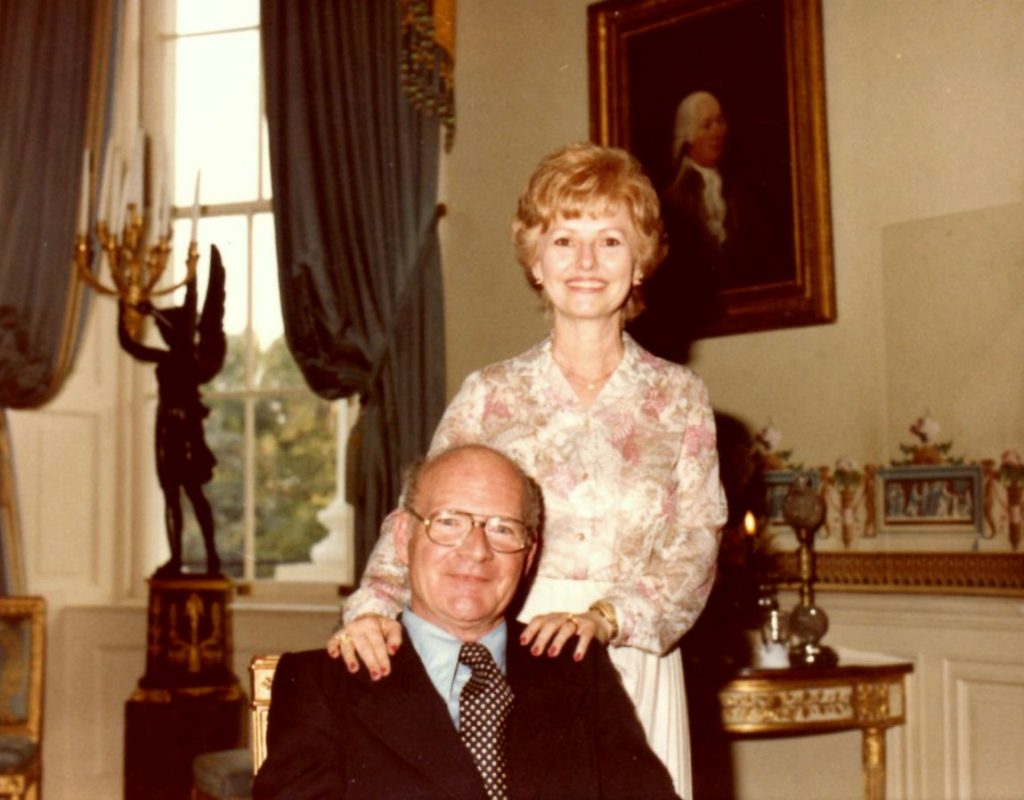 My first job was to set up Reagan's press conference when he returned from the Convention. Not only had we had the press in Los Angeles, but many friends including Art Linkletter and Jack Webb. Jack addressed Reagan, "What do we do now Governor?"
Reagan's answer, "Secede!"
I had been teaching high school part time, and decided it was time to return to CSUN to finish my Master Degree and returned to teaching full time. I changed my teaching to evening college to have time to work with the party. We put together meetings, many events for each group including their major conventions.
In the summer I was asked to work for the California Republican Party Burbank office bringing in our statewide minority groups, ending within 5 years with 17 statewide affiliates. We put together meetings, and many events for each group including their major conventions. It was a pleasure to recommend our ethic members for positions with Governors Deukmejian and Wilson. Then, in 1979 came time for the election of Ronald Reagan.
What a thrill to be in the California Delegation in Detroit, Michigan. We won. After the election all our previous office staff friends moved to Washington to work for the President. While at the CRP I worked with White House Personnel placing our ethnic folks in government jobs. I was also asked to assist in the President, Mrs. Reagan, Vice President Bush and later Vice President Quayle in their trips in Los Angeles.
My first trip with the Reagan's was the visit of Queen Elizabeth. A wonderful gala held at 20th Century Fox. First, 3 weeks ahead we worked with the White House Advance Team, the U.S. Secret Service, events, then staff room assignments and room preps then working on events, changes, getting clearance with Secret Service for volunteers and drivers, answering phones, working with, the press staff and press, the staff room breakfasts, snacks, drivers for the car motorcade, and assisting the President's top staff, Cabinet or National Security folks. What a job. It was much easier working for Mrs. Reagan's trips staying at the Beverly Wilshire Hotel with the greatest hotel staff. We still had the Secret Service, her staff, hotel, drivers, volunteers and events to assist.
Since my husband had no desire to live in D.C. White House Personnel Director Helene von Damn offered me to work for the President with the new intergovernmental Advisory Council on Education. I traveled around the country with commission members studying what the federal government laws were laid on schools throughout the nation. Most of the time our hearings ended with the union teachers advising us on how to change education. At the end of my six years on the commission, we recommended school vouchers for the children.
In 1995 my delightful job followed with working with Citizens for the Republic, President Reagan's Political Action Committee (PAC) where we raised funds by putting together trips for our $10,000 donors to Washington, D. C. The first year I planned seven events for the five days in D.C. for our members. It meant festive events with the President, his Cabinet Members, Directors in the Administration with breakfasts, lunches, dinners and private events for them, ending with receptions at the White House with President and Mrs. Reagan.
Getting accommodations, speakers, meetings and meals was a real challenge, but even with blizzards worked it all out. Our event at the U.N. in New York was a challenge when members to arrive by planes were stuck with blizzards in different cities. Bless them all. With many changes the events came off well.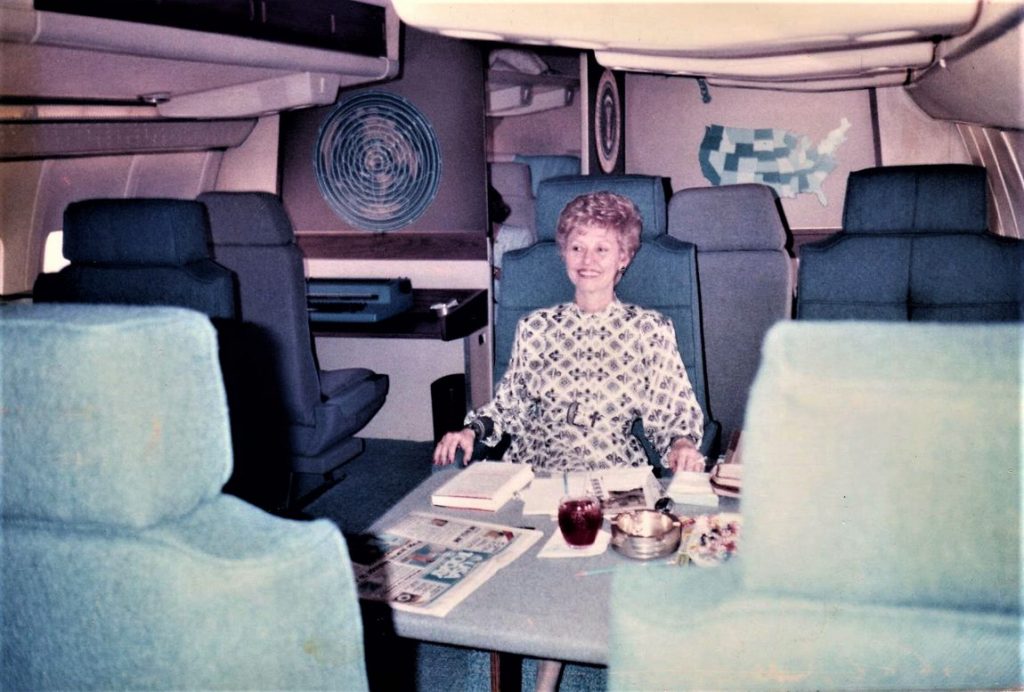 I had real challenges in major events in Los Angeles including a Town Hall event where the President was making an international speech and town Hall didn't have expense money, but we managed. My favorite event was the first National Education Day in Indianapolis, my birth city. It was the only national education meeting in the country. My family all attended. President Reagan was always wonderful in those challenging days.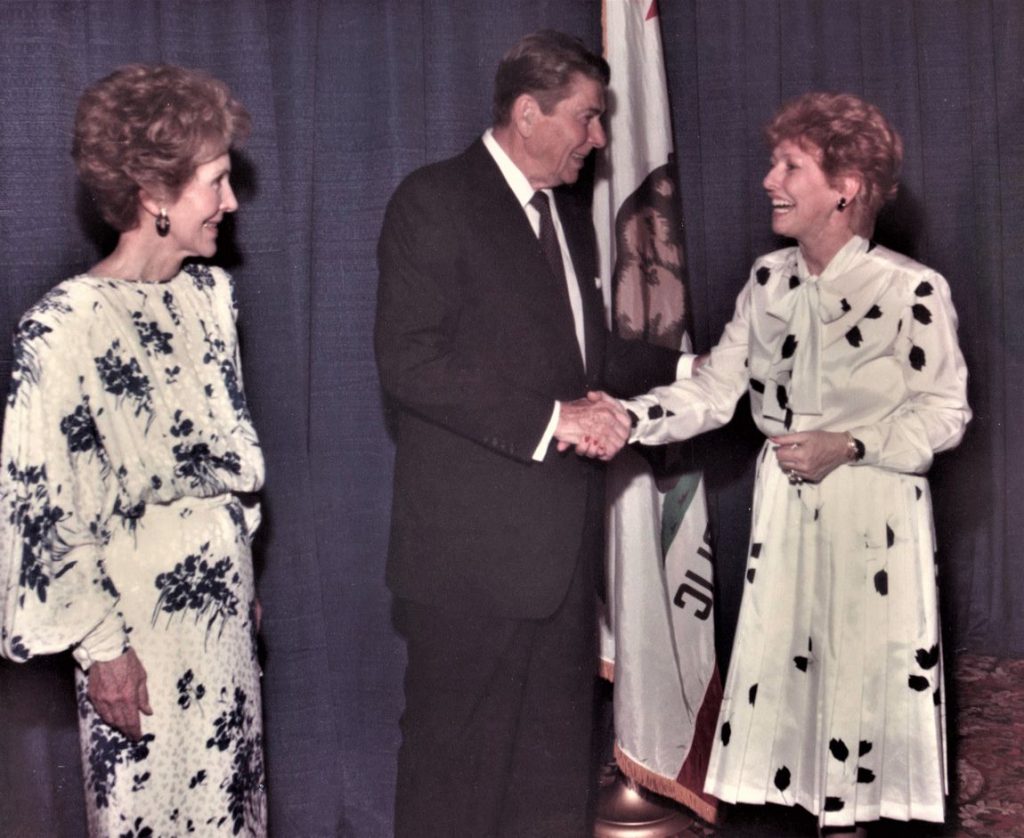 I was appointed by the President to work with the U.S. Small Business Administration in 1987. I had been involved with Tom Topuzes appointment as the Regional Director of the five Western States. He requested that I become his Special Assistant. I agreed to join him if I could stay in the Los Angeles office; he agreed that I could work there 3 days a week and two days in San Francisco. That happened for about 3 weeks when Tom asked if I could possibly work a 5 days week in San Francisco office. My husband and I agreed if it would only be for 6 to 8 months. We put together a fabulous convention with Japan and Australia along with the Governor's Conference and other busy scheduled events.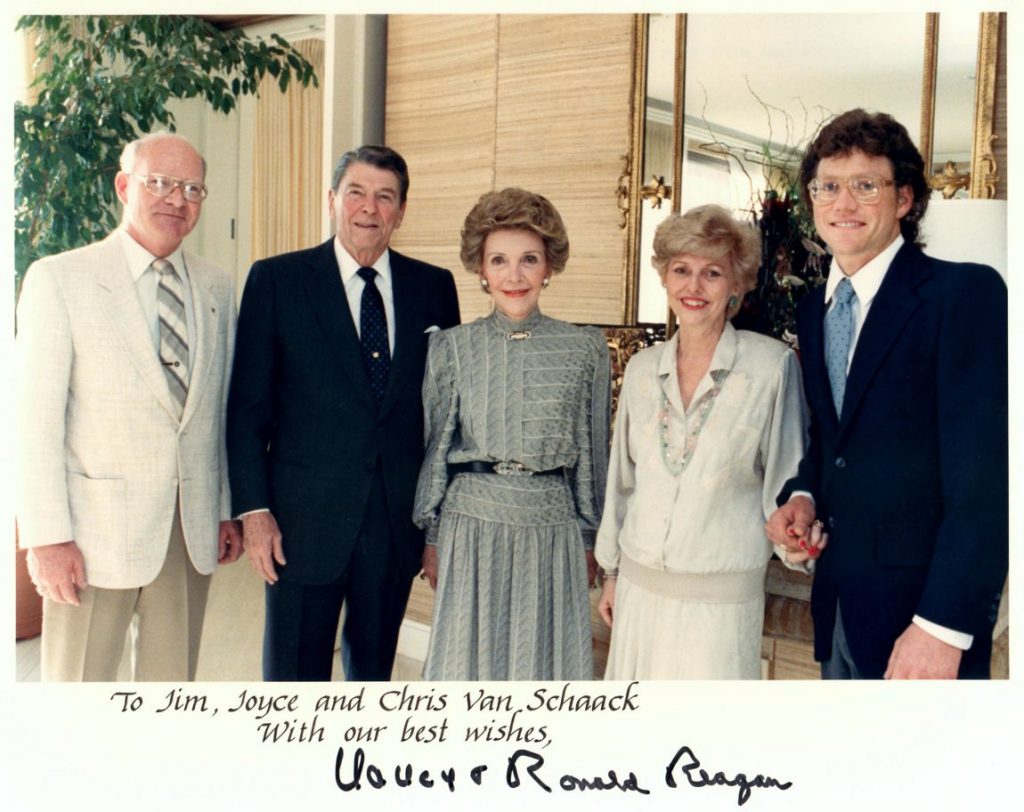 Ed Thomas, a friend from the Reagan Days in Los Angeles, was Regional Administrator for U.S. General Services Administration for the five western states. He asked if I would like to return full time to Los Angeles to be his Personal Assistant. Working in the Los Angeles Federal Building in Westwood really appealed to me vs. traveling from Burbank to San Francisco weekly.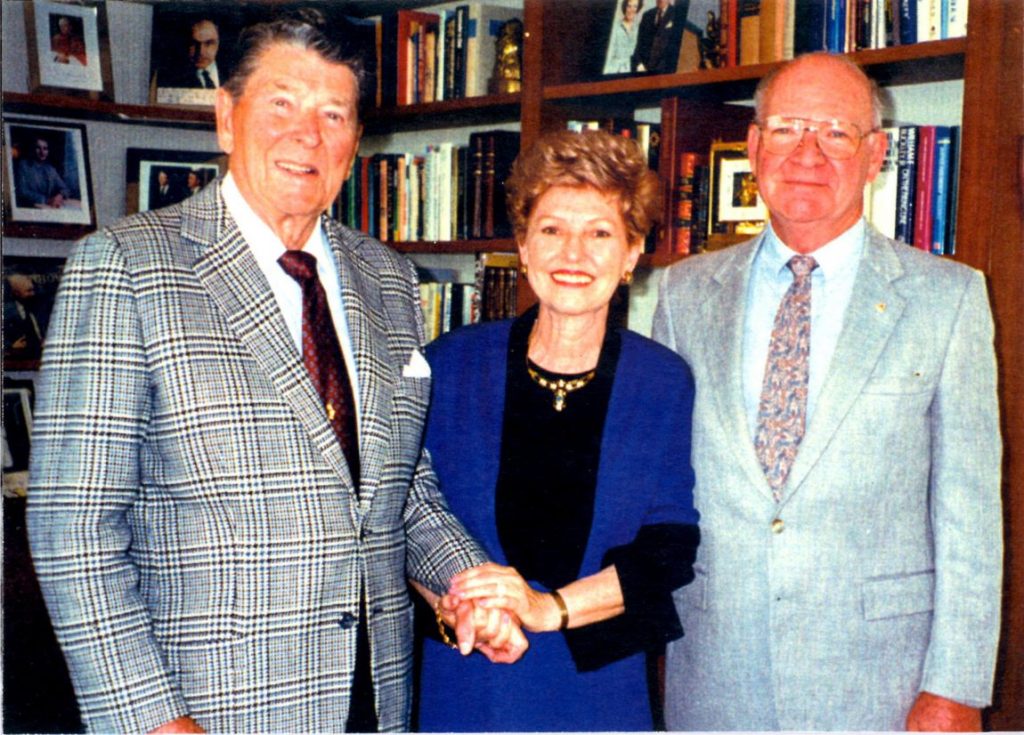 In 1988 I continued working under President H.G. Bush for the federal government, and continued working with the White House Advance team for the President's trips to Los Angeles, staying with the group at the Four Seasons Hotel. It was my pleasure to work with Vice President and Mrs. Quayle. On one of the trips Ron Kaufman asked if I would like to work with a new foundation, the Christopher Columbus Fellowship Foundation. I have served as a Presidential appointee since with President Clinton and G Bush since until 1916 when President Obama no longer funded the organization., and the seven and one-half million dollars was spent honoring outstanding persons and organizations were depleted.

Had I not have been a member of the Los Angeles Republican Women Federated I would never have had the opportunity to work with the Presidents Reagan, H.W. Bush, Clinton, and G. Bush, Vice President Quayle and so many wonderful Republican Leaders.