Why The Van Schaack-Anderson Family Website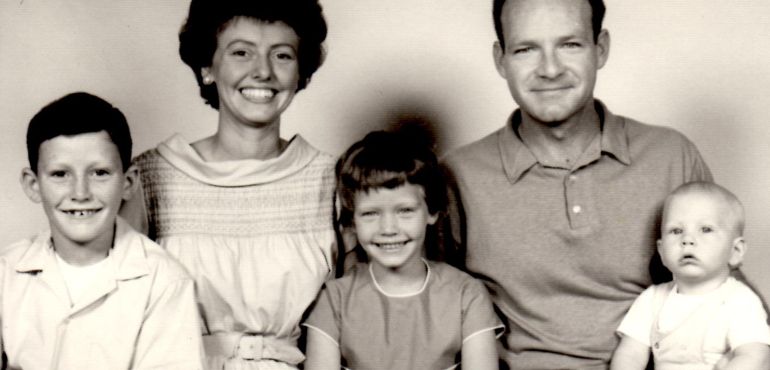 When Jim and Joyce's first child was born, James Le Roy Van Schaack lll, known as Lee, they began to record the growth of their family of three. First they hired a professional photographer who did a great job two or three times a year, but Joyce and Jim wanted to be able to document the early life of their children, which now included Dana Van Schaack, not just in photos, but on film as well. They bought an 8mm movie camera and for years they took short shots of many things including trips, birthdays and some historic events, mostly of their families, both the Van Schaack's and the Anderson's and their offspring. They had a projector and showed the film as it was shot in many cases, then stored it away in the garage for more than fifty years.
Recently for Jim Van Schaack's 90th Birthday, Christopher Van Schaack along with Lee and Dana, bought Jim a film digitizer and a slide scanner, so Jim could make digital copies of all the family movies and slides. Jim copied hundreds of rolls of movie film and thousands of slides to use for the videos you see on the VanSchaackFamily.com website.
Jim is not a professional video editor, and digitizing the old film didn't give the best images, but when Jim edited footage together, titled and added music, it seemed to be something that other members of our family might like to see and share with future family members. Editors Note: You will find a few spelling errors, mistakes etc. in the videos as this is a huge project and our eye site is not as good as it once was.
Daughter Dana (Van Schaack) Stamos created VanSchaackFamily.com, a great website where the families, including those from the Van Schaack lineage (Jim's Family) and those from the Anderson lineage (Joyce's family) can share their videos and stories. In this way we will continue to share family history, as well as preserve that history for those who are interested.
Families found on this website include:
The Van Schaack-Anderson Family
The De La Torre Family (Lee Van Schaack)
The Stamos Family (Dana Van Schaack)
The Woods Family (Dana Van Schaack)
The Roy Van Schaack Family
The Jim Van Schaack Family
The Powell Family (Velma)
The Charles Anderson Family
The Brewer Family (Lorene Anderson)
The Richards Family (LaVern Anderson)
The Strand Family (Janice Anderson)
The Russell Family (LuWanna Anderson)
The Cormier Family (LuWanna Anderson)
The Anderson Family
The Robinson Family
The Post-Marks Family (Waneen)
The Mehall Family (Vicki)
The Conemac Family (Karen)
The Miller Family (Shelli)
The Morris Family (Vicki)
The Gallo Family (Kent)
The Brummer Family (Waneen)
The Lory Family (Marsha)
Old family friends found on this website include:
The Walter Family
The Pedersen Family
The Weber Family